Jeeter, the number one cannabis pre-roll brand in the country, and Highsman, the cannabis lifestyle brand from entrepreneur and record-breaking NFL running back Ricky Williams, today announce a limited edition cannabis and apparel collaboration in time for Super Bowl LVI. Featuring an exclusive strain, special edition rolling tray, and limited edition capsule, 100% of the proceeds from sales from the collaboration will benefit Athletes for CARE, a nonprofit which advocates for the health, safety and wellbeing of more than 2 billion people of all ages who compete annually in sanctioned sports worldwide. The Jeeter x Highsman capsule will be available for sale at select dispensaries throughout California beginning Thursday, Feb 10th at 4:20 pm PST.
"We are proud to partner with Jeeter, a name so well known in California it transcends what has been on the fringe for decades and bakes itself right into mainstream culture," says Ricky Williams, President and Founder of Highsman. "I started Highsman with the idea of sparking greatness in oneself and Jeeter is the perfect partner to help ignite the flame."
Ricky Williams on Mental Health
An advocate of mental health awareness, Ricky has been vocal on the subject of mental wellness for over a decade and credits smoking cannabis as a way of overcoming the challenges associated with being a professional athlete including social anxiety. For the launch of Jeeter x Highsman, Ricky talks about mental health in sports in an exclusive video which can be viewed below.
Who Is Ricky Williams? The Man, the Myth, the Football Legend
Ricky Williams was born on May 21, 1977 in San Diego, California. He attended the University of Texas at Austin on a football scholarship and broke numerous records, including all-times for rushing and scoring. Williams went on to win the Heisman Trophy in 1998 and was ultimately inducted into the College Football Hall of Fame for his achievements.
As a professional football player in the NFL, Williams played for 11 seasons, most notably with the New Orleans Saints and Miami Dolphins. He continued to break records in the sport, winning multiple accolades including the league's Leading Rusher title of 2002. But his cannabis advocacy made him controversial in an era where plant-based healing was woefully misunderstood.
Cannabis Advocacy
Williams faced decades of penalties, suspensions and discrimination over his cannabis use, which he has explicitly stated enabled him to win the Heisman trophy. A strong advocate of medical cannabis, Williams embarked on a healing journey following the end of his NFL career. He devoted himself to becoming proficient in Ayurveda, yoga, astrology, meditation, and many types of herbal wellness. As he related in an exclusive interview with Honeysuckle, those explorations led him to the realization that cannabis was an integral part of humanity's physical, mental and spiritual evolution.
Learn the details of Ricky Williams' spiritual quest and history of cannabis advocacy from our video here and podcast interview.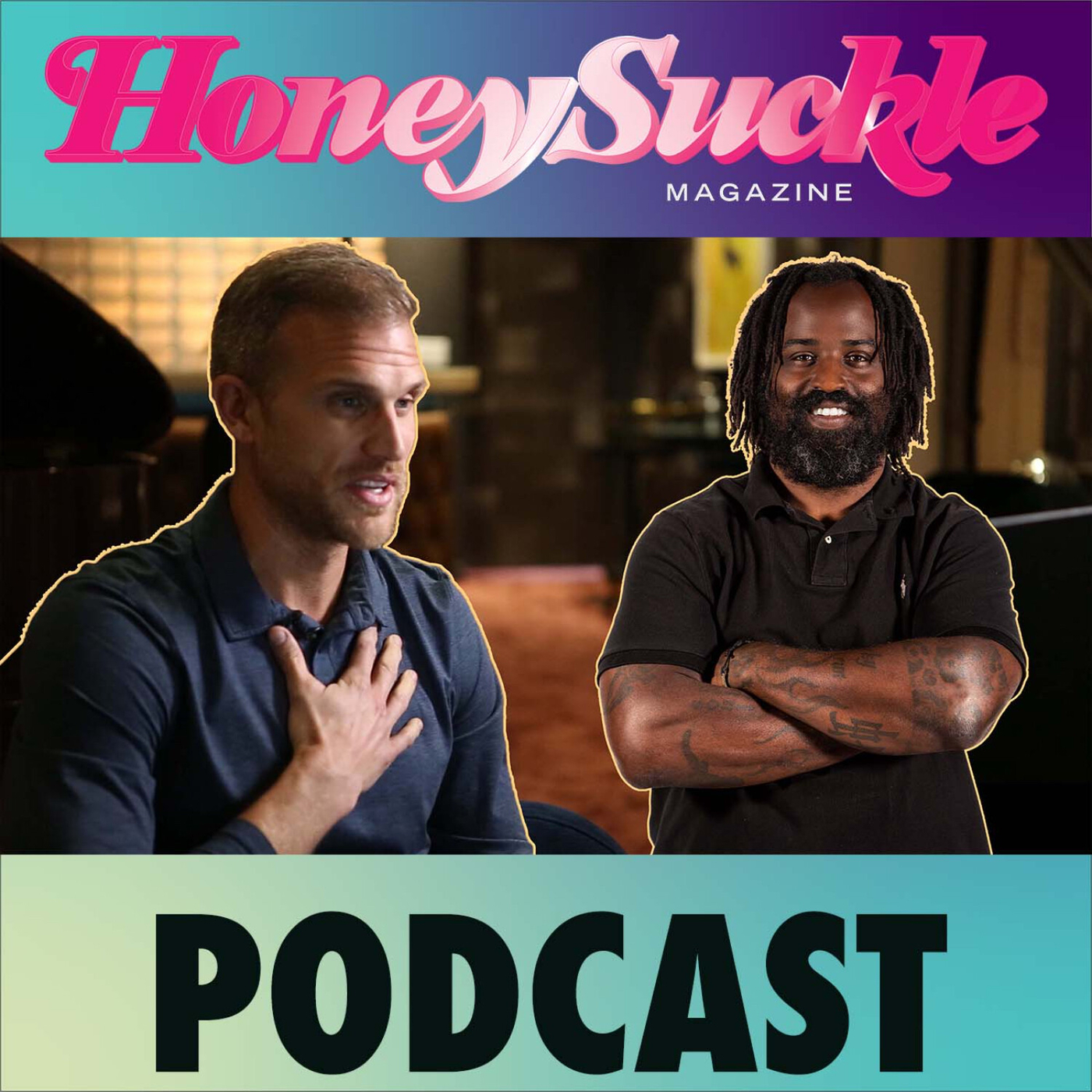 Now he brings things full-circle with his cannabis brand Highsman - a play on his career and themed around athletics, but going levels deeper to give the public the sense of inner peace and focus Williams has achieved.
Heisman Winner to Highsman: The Jeeter x Highsman Capsule Featuring "Sticky Ricky"
Once scrutinized by sports pundits and fans alike for using cannabis, Williams in collaboration with Jeeter, is flipping the script with this new line of cannabis products. In homage to Williams' NFL locker, the sleek packaging was created using real football leather and features resin-infused Jeeter XL and Baby Jeeter pre-rolls as well as Jeeter Juice live resin of an exclusive indica strain aptly named "Sticky Ricky." The bi-fold box will also contain Ricky's legendary number "34" jersey, Highsman-branded helmet and a rolling tray featuring a caricature of the "Highsman" himself.
Did Ricky Williams Inspire Jeeter? A Cannabis Match Made in Heaven
Since launching, Jeeter has built a mass following amongst cannabis connoisseurs throughout California for it's high quality product and stand out presentation. The boutique drops provide very limited access to some of the best merchandise and collectable capsules, selling out in minutes. Carving out a niche in the market, Jeeter's also been blazing a trail, attracting partners in the music and sports fields, which now includes longtime friend, Ricky Williams.
"Ricky was one of our favorite football players growing up in South Florida," said Jeeter co-founders Sebastian Solano and Lukasz Tracz. "We used to love to read his Run Ricky Run blogs and the way they would bring his fans into the everyday life of a NFL player. When we were younger we didn't understand why Ricky would use cannabis, but over time it became clearer as to why he took that stand. It's an honor to collaborate with him on this project and push forward the message, and help to break the stigma between sports and cannabis."
Jeeter x Highsman also launched an apparel collection on Friday, February 4th, that mirrors the superior quality of the cannabis pre-rolls and vape. Equally exceptional, offerings include a co-branded varsity jacket, sweatshirt, baseball hat and T-shirt featuring Ricky's iconic photo from his 2002 Sports Illustrated cover. The apparel ranges in price from $20-$290 and will be available at Highsman.co.
Where Will the Jeeter x Highsman Capsule Be Available?
You can find the Jeeter x Highsman capsule apparel online through the Highsman site. Jeeter x Highsman cannabis products will be available at select locations throughout California. Check out this page for details on the items in the capsule, including the exclusive "Sticky Ricky" strain, and find the store nearest to you!
Giving Back to Athletes for CARE
All of the proceeds from the Jeeter x Highsman capsule will benefit Athletes for CARE, a nonprofit that advocates on behalf of a holistic approach to treatment of athletes' physical, mental and financial health. Founded by a group of professional athletes who achieved global recognition during their sports careers, Athletes for CARE is the only organization that fights to change worldwide health options and standards for issues commonly seen in athletics - such as Traumatic Brain Injury or Chronic Traumatic Encephaly (a progressive brain disease linked to concussions), Post Traumatic Stress Disorder, depression, substance abuse and opioid dependency, and chronic pain - which also affect billions of patients each year.
The Athletes for Care founding members include:
NFL players Charlie Adams, Eben Britton, Marques Harris, Nate Jackson, Leonard Marshal, Jake Plummer and Marvin Washington
NHL players Riley Cote and Darren McCarty
UFC Mixed Martial Arts pros Bas Rutten and Frank Shamrock
Co-founder and Executive Director Ryan Kingsbury, a music industry professional-turned-CBD educator
Co-founder Lindy Snyder, an entrepreneur and advisor to numerous pioneering cannabis businesses such as Treehouse Global Ventures, Greenhouse Ventures, Kind Financial and The Arcview Group; she is also the founder and CEO of Lindi Skin LLC, the first skincare line developed for cancer patients
For more information on Athletes for Care, visit athletesforcare.org.
What Will Jeeter x Highsman Do for Super Bowl LVI?
Jeeter will be hosting Jeeter Bowl, a championship viewing party, to celebrate the collaboration with Highsman on Sunday, February 13th. This marks the first of many Big Game weekend activations the brand will implement in the coming years.
Want to Learn More About Ricky Williams?
We know you do! You'll find out much more about Ricky Williams' transformation with spirituality and cannabis in our upcoming print edition for Black History Month, featuring Wiz Khalifa! Pre-order your FREE advance copy and get your tickets for our issue launch party in NYC on February 26th!
Find Out More on Social