For award-winning filmmakers Micah Sudduth and Keylee Koop-Sudduth, creativity is a spiritual experience. The husband-and-wife team recently premiered three episodes of their digital series Backsliders at Tribeca Film Festival, one of only a limited number of live outdoor screenings to take place during the fest this summer. Backsliders blurs the lines between narrative and documentary a la Curb Your Enthusiasm; Micah and Keylee use their real names for the characters they play and the storylines are based on their real lives. At its core, the series explores the couple deconstructing their religious fundamentalist backgrounds and finding themselves for who they really are.
Micah and Keylee sat down for an extended Honeysuckle podcast chat with Creative Director Sam Long (and occasional questions from founder Ronit Pinto). In doing so, they addressed some of life's biggest concerns: What is religion? How do we know we are real? Can art be spirituality? Does getting high actually empower you to connect with the universe?
Listen to the podcast here: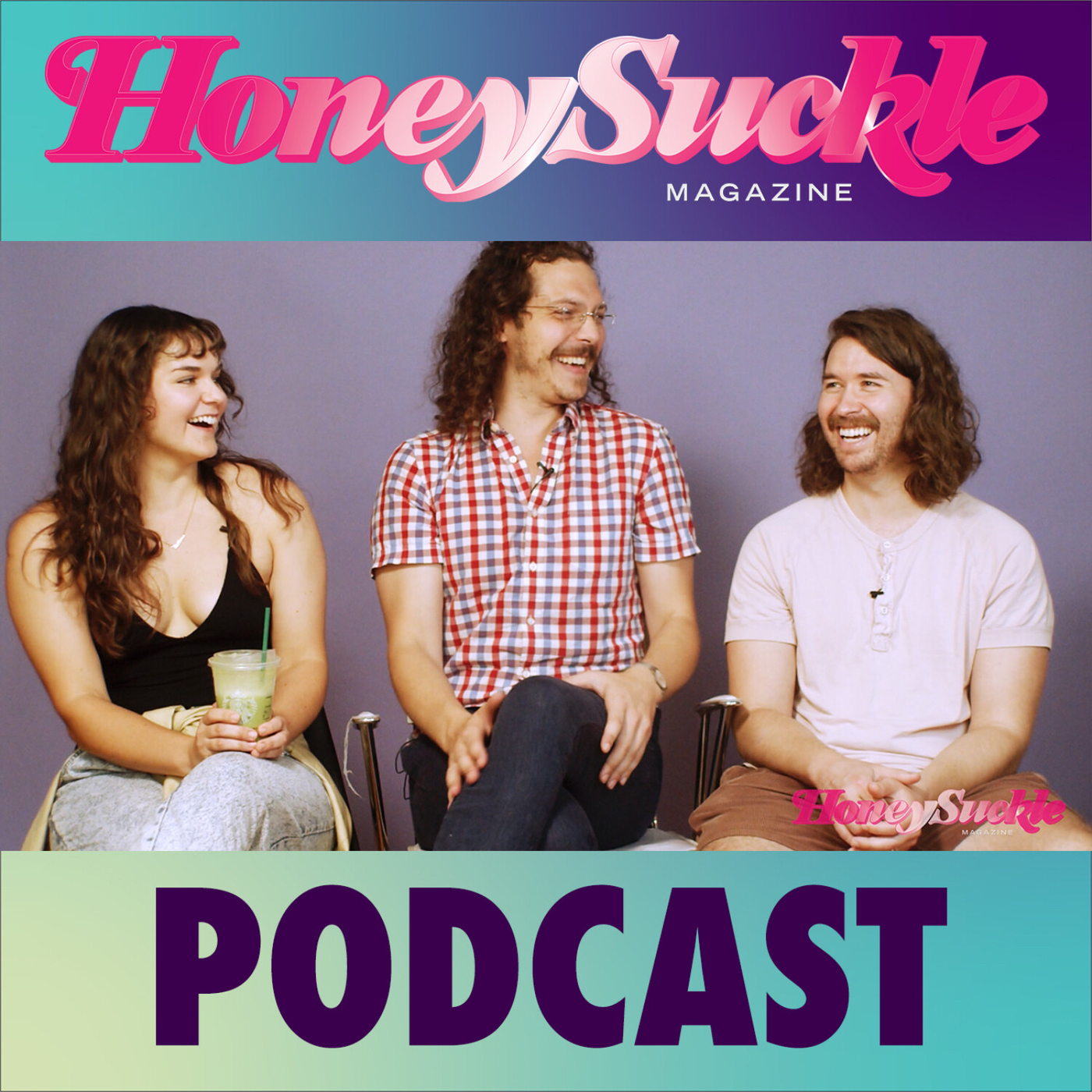 It seems those last two questions are the key ingredients to the duo's success. After surviving strict upbringings – Micah in a self-described "Christian cult" and Keylee in a megachurch – they have begun filtering their views of the world through new perspectives. They say that writing and producing short films through their company Bob Billiams Productions allows them to access true spirituality rather than something that was forced upon them.
"With Backsliders particularly," Keylee noted, "we wanted to leave room for the magic that occurs within improv… When we're able to be present with each other, there's a spark of magic that definitely feels like a soul, a God connection. For us, it's about creating that space of safety and security so we can kind of surrender to the moment."
"Editing becomes the arrangement of those God moments," Micah added.
Keylee observed that creativity brings her to her "higher self," going on to say, "Cannabis does that for me as well. I feel like it helps me quiet my insecurity and my fears and this overwhelm that's always like in the back of my mind… [I] just relax and trust that my creativity is sacred and the time that I spend in that space is a holy place and I'm worthy of that."
"That's the closest I've ever been to God," Micah explained when speaking about his experiences with cannabis and ayahuasca. Both he and Keylee have enjoyed transcendent highs with cannabis and psychedelics.
As Sam pointed out, the core psychoactive compound in ayahuasca, N,N-dimethyltryptamine (DMT), is a naturally occurring chemical inside the human body. Pair this with our bodies' endocannabinoid systems, which allow us to process cannabinoids for healing through homeostasis, and we could effectively engineer ourselves to produce organic "happy hormones" all day long.
On one especially memorable ayahuasca trip, Micah believed he felt a true connection to God that manifested as female vibrations. Keylee discovered similar feminine energy, recalling that she felt the sensation of being in a womb and heard the message "You've never been alone because I've always been with you."
Through the lens of art, and with the aid of cannabis and psychedelics, Micah and Keylee have released themselves from restrictive fundamentalist programming. They are processing the world with the greatest openness possible and helping encourage others to do the same. If their filmographies, including the multi-award-winning series Home and landmark series TALK, are anything to go by, they are on the best road to connection of all kinds, with the power to reach the masses. And effecting that sort of positive change is a truly blessed life indeed.
Watch the full video interview here:
--
For more on Micah and Keylee, visit bobbilliamsproductions.com or follow on Instagram at @thebobbilliams @Micah_sudduth @keyleemakes. To get updates about BACKSLIDERS, follow on Instagram at @backslidersshow.