Article by Dorri Olds
From TV's "Hannibal," to the suspenseful thriller The Hunt, and all the way back to Nicolas Winding Refn's Pusher, I'm mad about Mads.
Mads Mikkelsen
Angular. Impeccable. The actor with razor cheekbones and eyes pulling you closer. Everything Mads is on screen is multiplied when standing beside the actor IRL.
Meeting Mads Mikkelsen
At a private cocktail party in Manhattan, Mads and I were left alone to chat. I was not on a Mads interview schedule. With his magnetism stronger in person I took an impromptu beeline.
He was standing alone in a corner at the rear. (Maybe he feels weird at cocktail parties too?)
Taking a chance, I went over to say "Hi." His mouth curled into a sweet smile — and those eyes! He turns to give his full attention to me. I take it from there in what turns out to be a half hour of one-on-one time. It surprises me that no one interrupts us for that long. I feel eyes on us from every corner of the room. But, it isn't until the next day that I find out people are mistaking me for a friend of his. Leaving us alone was out of respect for his privacy. Perhaps others think it's crass to interrupt a big star while he's chatting with his friend. What luck!
Mads and Magnetism
Mikkelsen is warm and humble, open and kind. It feels as if he knows me. Our only interruption occurs when a fan politely apologizes for the disruption and hands Mikkelsen fan artwork. It is a caricature of the actor that is right-on. Well-done. It captures Mads' face in a few lines. Instinct makes me grab my camera and snap a pic.

Without any prompting, Mads looks directly into the camera, holding up the artwork. He offers me that gorgeous face. During the commotion, I do not get the artist's name. (If he sees this, I hope he contacts me. I will happily give him credit.)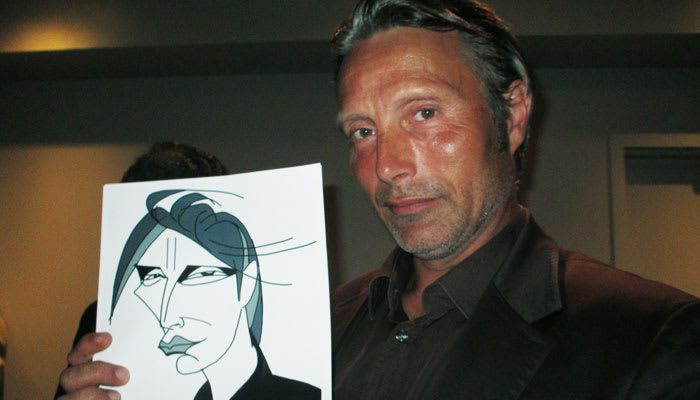 Mads thanks the artist and returns to me to continue our private conversation. OMG.
After our long chat, which he seems willing to continue, I apologize that I must leave. "My niece just arrived from Germany," I say. "I only get to see her once a year."
He looked disappointed.
"You're not going to see the movie?" Mikkelsen says. He is referring to the New York City premiere of "The Hunt."
I grin, and tell him I've seen it already in a press screening and already published a 5-star review.
He beams, thanks me, and off I go to catch the number 1 train.
Oh, what a night. My heart thumps with glee as I head to the subway. I shake my head at my amazing luck. I rarely get star struck but this is a big exception. I continue to admire his talent from afar.
Excerpts From My Chat with Mads
Dorri Olds: Was being an actor what you wanted most?
Mads Mikkelsen: No. I never even thought about being an actor. Somebody asked me if I'd like to learn the craft and I said, "Okay." I was a gymnast in a show at that time and somebody asked me afterwards one night. I performed as a gymnast for nine years and then I did acting after that.
Wow, you lead a charmed life. Have you ever had any dark periods?
Not seriously. Not depressed but you always have some dark periods. Sometimes you're trying your best and you still can't find a solution, but I try not to waste my life living in a dark place.
You seem happy. You have great laugh lines when you smile.I was a happy kid. I smiled a lot.
Do you have siblings?
I have an older brother who is an actor as well.
Is he proud of you?
We're proud of each other.
How is his career?
He's very successful. Predominantly he does theater and he's very good at it. He also does TV.
Do you like theater?
Not as much as making movies. I'm in love with film.
Have you ever experienced the down sides of fame?
Yes, all of it.
Obsessed stalker fans?
Yes, and everything else. You name it and it has happened. [Smiles]
Enjoy this video clip from my chat with Evan Rachel Woods:
If you've never seen the award-winning steamy political drama, "A Royal Affair," you must rent it. My other suggestions include "Charlie Countryman" and "The Hunt." If you haven't seen the Season 3 premiere of 'Hannibal" yet, head over to NBC On Demand or nbc.com and check it out. If you have seen it, here's Mikkelsen discussing the entire season: Watch Now!