"We have to be careful of our branding in this industry," Andrew DeAngelo cautions cannabis professionals. "We can't let Main Street America be against us. It took us 100 years to get them with us again."
Watch our full exclusive interview with Andrew DeAngelo:
One of the foremost visionaries in shaping the modern cannabis industry, DeAngelo understands the sector's highs and lows better than almost anybody. He has been instrumental in establishing the structure for major organizations within legal cannabis, particularly as co-founder of Harborside, the world's oldest and largest medical dispensary system. Over 13 years at Harborside and decades in cannabis advocacy, DeAngelo led the design and development of gold-standard retail for the industry, innovating many "firsts." His achievements include introducing CBD medicine to heal severely epileptic children as documented in Discovery Channel's Weed Wars, implementing the first lab-testing program in the history of cannabis dispensing, creating child-resistant packaging for edibles, standardizing inventory tracking, initiating senior outreach, and successfully preventing the federal government from seizing Harborside in forfeiture actions against the company in 2012.
Now a global cannabis consultant, Andrew looks forward to helping others drive the next phase of the space. He joined the Honeysuckle podcast to tell Creative Director Sam Long all about his origins in the industry, his experiences with different regional markets around the United States, and why the plant continues to amaze humans.
Listen to the full podcast episode: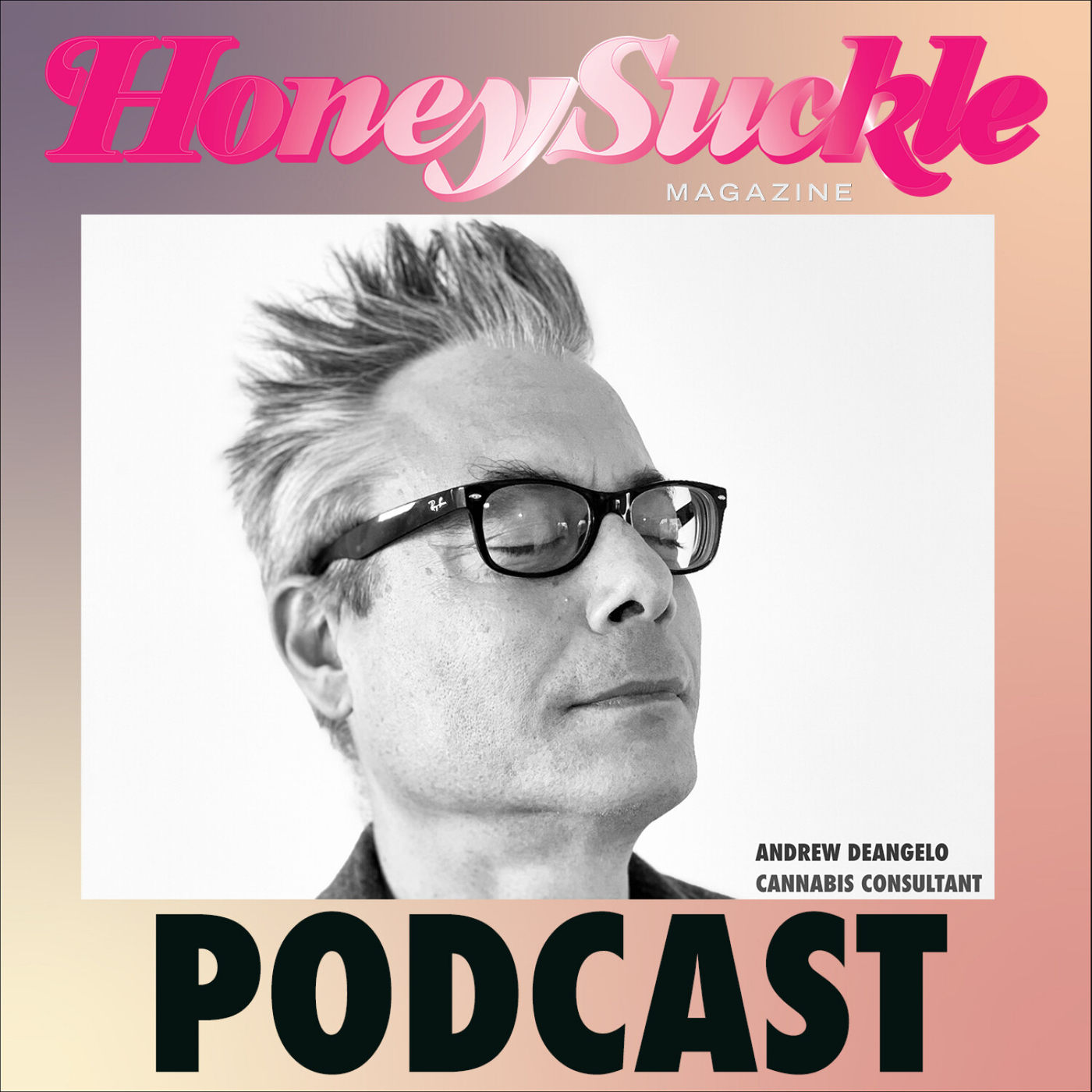 "Cannabis is a great teacher," DeAngelo shared, as he and Long ruminated on the ways in which the plant has helped their eating habits. Many people who identify as "Cali sober" – meaning they use cannabis or psychedelics but no alcohol or harmful substances – find that plant medicines titrate down their body's need for liquor and prescription medication, so that more natural balance can occur within their systems. "If you have a long enough and consistent enough relationship with it, it teaches you how to be healthier in other parts of your life… [Or] just to lighten up a little bit or to have experiences and get closer to the people that you love. These are the things that cannabis teaches us."
DeAngelo explained that although science hasn't given us an exact reason for why the plant does so many beneficial things, we do know our bodies have an endocannabinoid system and brain receptors to interact with different components of cannabis. Clearly our physiology evolved to respond to the plant's healing activations. That very interconnectivity is his focus as a consultant today, which he applies to navigate the business world – because after all, we need healthy people to run healthy businesses.
"My job is to create the conditions for my clients to grow on their own," DeAngelo said, likening his consultant role to that of a gardener. "I nurture the garden and make sure that people have all the fertilizer, and that usually means teams and people and talent, a [positive] atmosphere to grow in, that means that they're compliant and they're legal… That's kind of a metaphor, right? What I really do every day is I help people plan their businesses, I do their performance, I do their business plans, I do their decks… Building the business is really what I specialize in, from the moment that we get the license to the moment we open the doors."
You would think that at this moment in history, when 38 states have legal medical programs (18 of those with adult-use retail as well), Congressional representatives are sponsoring the most advanced bills for federal legalization ever, and nearly 70 percent of Americans polled say they favor regulated cannabis, that local barriers to enter the industry wouldn't be so high. However, DeAngelo related that every state has dealt with unexpected challenges – including vehement opposition from residents.
He recalled being run out of Massachusetts due to forceful pushback from Bostonians, particularly the city's mayor. In Chicago, seeking to put dispensaries on the city's South Side, DeAngelo got the same reaction even though he and Sue Taylor, a cannabis expert then serving as Harborside's Senior Outreach Coordinator, tried to illustrate the benefits the plant would have for cancer and epilepsy patients, and how it treats people suffering from opioid addictions.
"This is happening all over the country," DeAngelo reflected sadly. "In areas that could not need cannabis more."
Even where dispensaries are more successful, regulation problems ensue. California's legal cannabis is prohibitively expensive because the operators are taxed so highly. New York has a good tax foundation and a strong social equity approach, but is requiring substantial real estate fees before entrepreneurs are even guaranteed a license. New Jersey has the inverse problem, according to DeAngelo – "They're giving licenses to people who sometimes can't get real estate." Oklahoma did not put a cap on their licenses, so the dispensary environment is more free-flowing, almost to the point that there are too many dispensaries in a single neighborhood.
"The root cause to the real estate problem is a zoning problem," DeAngelo identified, observing that due to historical bias and regulation policies, most cannabis businesses are only allowed in "rough" neighborhoods and often cannot get placed in downtown hubs, cultural areas, or near any schools or religious buildings.
Yet as DeAngelo examined what has gone wrong in the phases of the legal cannabis industry, he remained hopeful that we'll continue discovering what's right. "When we talk about building organizations and companies, interconnectedness needs to be part of the plan," he emphasized. "Because if it's not part of the plan, it will be part of the dysfunction… We have a lot more to learn, we have a lot more to study."
DeAngelo will be speaking at Marijuana Business Daily's Marijuana Business Conference (MJBizCon) in Las Vegas, the world's largest cannabis industry trade show, October 19-22. He will also be attending the New England Cannabis Convention (NECANN) in March 2022 and is sure to be at many other events in between. As co-founder and Chairperson of the Board of the Last Prisoner Project, a restorative justice nonprofit created with his brother Steve, DeAngelo is always concentrating on how to make cannabis an equal opportunity space and heal the nation from Prohibition's most damaging effects. He and Steve also recently formed DeAngelo Brothers (DAB) Productions, which intends to produce, support, and distribute cannabis content over a variety of mediums and platforms. DAB's mission is "to create new mythologies for cannabis in pop culture, smashing the stigma of the lazy stoner, and replacing it with fresh and positive representations of cannabis in society."
As a final note, DeAngelo wished to spread the word about how regenerative farming will transform the cannabis space and heal the planet. "Indoor-grown cannabis is an ecological disaster," he warned, but adapting to regenerative methods is our best chance for survival.
When you're one with the plant, as Andrew DeAngelo is, there's just no stopping your growth.
--
For more about Andrew DeAngelo, visit andrewdeangelo.com or follow @andrew_deangelo on Instagram.