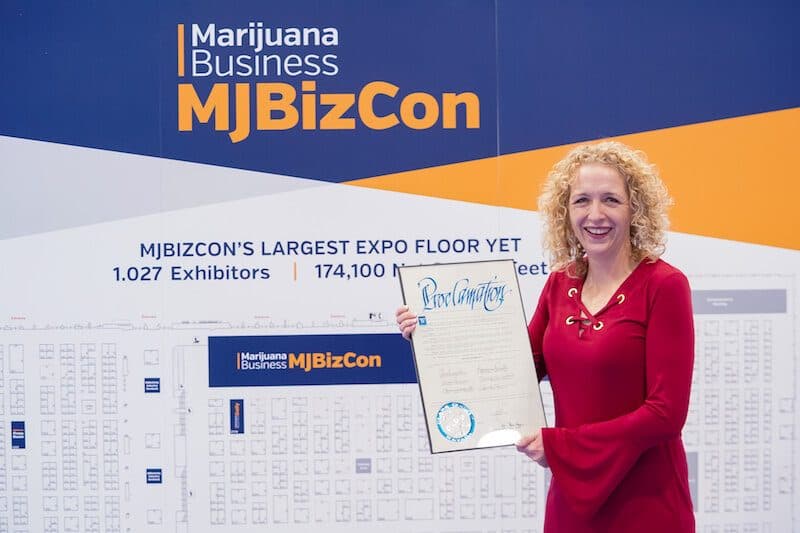 Honeysuckle met up with Cassandra Farrington, founder and CEO of Marijuana Business Daily, the leading business media source in the cannabis industry, to talk female leadership, legalization, and much more. The conversation took place at the Marijuana Business Conference (MJBizCon) in Las Vegas, the most notable cannabis industry event in the United States. Last year Honeysuckle profiled Farrington as part of a major series on the growth of MJBizCon for our CANNABIS issue; this year we wanted to follow up since 2018 has been a record-breaker. MJBizCon has nearly doubled in size, featuring over 1000 exhibitors, 27,600 attendees and representation from 70 unique countries at this most recent expo.Farrington shared her insights about the latest updates for 2018, the conference's future for 2019, and much more. On all counts, the sky is the limit for this rapidly budding industry and the inspiring woman at the heart of it all.
HONEYSUCKLE: What's new at MJBizCon?
CASSANDRA FARRINGTON: The convention's size and scope have surpassed everything that we could've imagined. Each time the show comes around, it provides a visceral, tangible window into how far the cannabis industry has come. The software and the technologies continue to improve, and the international size and scope of this event has grown immensely as well. We have [70] countries represented, both on the attendee and exhibitor sides. We have also seen a lot of recent growth on the hemp side of the industry, which has become a fundamental part of where the industry is going in the future.
How much bigger is the convention this year than last?
Last year we had just under 700 total exhibitors. This year we have 1,028, a 60-70% growth. Our attendance last year capped out at 18,200, and now we're over 25,500 people registered at this event. It's become a truly massive show, and it is a massive touchpoint for the broader economy of the United States.That's grown from just 400 attendees at the first MJBizCon in 2012.
How many events do you have all year?
We have three major events—MJBizCon is our biggest, which is what this is, MJBizCon NEXT, and and MJBizCon International in Canada. Starting next year, we are hosting a separately tracked Hemp Industry Daily conference [concurrently with MJBizCon NEXT]. Our sister publication, Hemp Industry Daily, is putting on its own entire conference program, and we'll share the expo floor with them. That's happening in June in New Orleans. Our international event is returning to Toronto the first week of September this year. There are so many next-step industries, opportunities, and areas where this could go.
And this year the big themes that everybody is capitalizing on now—including sustainability, women and diversity—have been key issues for you to tackle.
Those areas have been cornerstones of our industry give-back program, particularly on the advocacy side. Last year we started expanding to include things like sustainable development, community development and professional development. It's wonderful to see how the industry has picked up on those themes, which helps us and helps the rest of the industry—that's what those arches out there say; it's your industry and it's our industry. We're in this together.
Then there's the field of farm tech, like regenerative agriculture. We started looking at the hemp sector after our cannabis issue, and we went to Noco Hemp Expo in Colorado and learned from Ray "The Soil Guy" Archuleta about how farmers are committing suicide because they can't grow any more soybeans and corn—so they're trying to get them to become hemp farmers.
I was at the HIA conference a year ago on Labor Day in Kentucky. They're doing some amazing work in Kentucky to use the tobacco settlement money to help the farmers flip that land and produce more hemp crops.
What trends in the field of women and leadership have you noticed over the past year?
We've seen some interesting trends and mergers, like with Canadian companies like Van der Pop—[founder Amber Pride] is a fairly recent example of a female executive who has something really valuable that other companies want. It's kind of a pro and a con. I love seeing these amazing female entrepreneurs achieve those goals and cash out on everything they've been working so hard for. The flip side of that is when Van der Pop sells to Hiku which sells to Canopy, there's another company that's now no longer female-majority. You've got a yin and a yang there. I will say this: the women's networking event tomorrow evening has over 700 people registering; we're capped at 1000 and I would not be surprised to see it reach capacity. It has been the highest-selling add-on for the conference registration.
You had a fantastic lineup for the women and minority business event yesterday. I know Shanita Penny was one of the panelists, as well as Amber Senter from Supernova—all women with amazing power behind what they're doing.
There are so many things like that happening around MJBizCon, and that's part of why the government in Clark County has officially declared this MJBizcon Week in Las Vegas. That's the level of impact this event has on the city and county—it's not just about this event itself; it's about those other things that surround it.
In mainstream business as a whole, we're seeing that this is the year of the woman. As one of the cornerstone women in the cannabis industry and in media right now, what do you hope the future brings? What will next year look like?
My answer remains that where MJBizDaily goes is where this industry goes. We will stay right at the center of this industry, helping people understand what is going on, making sure businesses survive and thrive—whether the federal government sends troops into every single dispensary or whether the States Act passes. Those are two very different scenarios, but regardless, MJBizDaily will be right at the center of it. All indications point towards continued growth for the amazing, innovative, entrepreneurial environment that has taken root here. You can see that in all the investment that is coming out to play.
With Canada's adult-use legalization, that might energize the US to move toward a similar federal decision.
I think that is one of the things they'll be looking at in Congress when determining whether to sponsor the State Act. It has become unavoidably clear that the investment that is going on in Canada has catapulted that country in front of the United States in terms of economic development. Trump hates losing out to Canada, and at the end of the day, that might be one of the elements that gets this thing done.
How has your life changed as a person, even in just the past year?
That is a really good question. It has been moving so fast. My husband works with me; he's our tech director—we have the business and the kids, and that's our life. It's very helpful to have my husband working right by my side—we work well together; I know not all couples can do that, but for whatever reason, we can.  At the same time, it can also be very draining. Since we started this, we've watched the business cycle and continue to skyrocket. I have a hard time remembering what my life was like before this, it's changed so fundamentally.
So in terms of resting and balancing…
We make it happen. We don't cook nearly as much as we used to. We have continued to be able to really prioritize the business and our family—everything else may not get done but those two things, but that's where he and I keep our balance. That's really all that's there. Some things defy categorization or explanation. You just go.It's definitely been a wild ride. I don't know where all this goes from here. I have the best team in cannabis, hands down. We have our arms fully around this amazing opportunity, and we're just going to keep going. —
For more information on MJBizCon and its sister events, visit mjbizconference.com and mjbizdaily.com or follow on Facebook, Twitter, and Instagram. MJBizCon NEXT takes place in New Orleans June 12-14, 2019. Register today!
RELATED POSTS