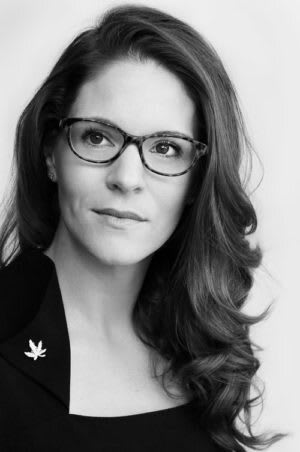 She's been called "the most widely recognized female personality in cannabis," started a national organization for women in the industry, and is a bona fide movement pioneer through both her visibility and creative ingenuity. Everyone in cannabis knows Jane West – but can they predict her next big move?
We can! Honeysuckle traveled to Marijuana Business Conference in Las Vegas; presented by Marijuana Business Daily, it is the largest cannabis business convention in the United States. Kicking off today, MJBizCon will give its attendees a world-premiere sampling of Jane West's new CBD coffee and capsule lines. Prior to MJBizCon, canna columnist Kym B got the inside scoop from Jane on her new venture.
By Kymberly Byrnes, Founder of  https://cannabiswithkymb.com/
Jane West, the badass canna-mom and entrepreneur, answers my call while smoking a joint and drinking CBD coffee on her porch. West is a true OG cannabis activist who was hosting infused dinner parties well before they were being written about in Vogue. In 2014, she founded Women Grow, the largest professional networking organization for women in the cannabis business, and more recently, she launched her lifestyle brand, Jane West, which features glassware, accessories, and a new CBD collection. She made history again this year as one of the first CEOs in the cannabis space to raise equity crowdfunding capital through the Republic platform (with 80% held by women and people of color). And even though West has been in the business for a while, it's clear she's just getting started. Here, we talk cannabis, gender parity, market innovation, and more.
KYM B: You're based in Denver now but grew up in Wisconsin. What was that like?
JANE WEST: It's the home of Miller Brewing Company, and all of downtown Milwaukee, which is my childhood, smells like hops, which I think is a funny correlation to Denver now – hops are such strong terpene-y plants, and driving through downtown Denver, every time you turn down a corridor, all you smell is cannabis.
When was the first time you smoked weed?
The first time I ever got high was at a summer camp in Wisconsin where I was a camp counselor, and it was an extremely positive experience. I smoked a joint. I was a naughty teenager at the time who also occasionally smoked cigarettes.
So how did you become the cannabis icon you are today?
My original idea was to create an Edible Events company for a cannabis events series. And the reason that 'Jane West' was created was because I had to create a burner computer and start email accounts that weren't my work emails. So doing that I needed a new email address and everything to start this business under, so that was how the need to create an alter ego came to be.
What milestone made the biggest impact for you as far as your life as Jane West? What was that pivotal moment?
My events in Denver became really popular, and at the fourth event, 4/20 in 2014, I was hosting a brunch called the Wake-N-Bacon Brunch, and there were SWAT teams hunting down almost every 4/20 event they could find on that day. There were only a handful of us brave enough to do that at that time. So my 4/20 brunch got raided. I received criminal misdemeanor charges. And as a result of that, I had to appear in a criminal courtroom on four or five different occasions. Eventually I pleaded guilty to criminal misdemeanor charges and I was on probation for a year.
Wow, that's fucked up!
What's even worse is the disparity. The fact that the 'War on Drugs' really is a war on people, specifically people of color. I want to totally acknowledge that this is a result of my white, female Caucasian privilege, but I had never in my life been in a criminal courtroom. Never in all the four or five times I was there was there ever another Caucasian woman that was being brought to trial. Most of [the other women at the hearings] were in jail and were being brought from jail to be hearing about their day in court. And I was not in jail; I was just at my house because it was just a misdemeanor. It opened my eyes Caucasian women weren't being brought before the court. But this doesn't mean that we're not out there smoking pot, you know? So that experience definitely changed my path. I started getting more involved with SSDP (Students for Sensible Drug Policy); I scheduled a few Q&As with Betty Aldworth, the Executive Director of SSDP, because I was being interviewed so often for so many reasons, because I marched and demonstrated and I wanted to be heard.
You started Women Grow in 2014 as a way for women to meet and work together through cannabis. Today, it's grown to 45 cities. What is your relationship to Women Grow now?
I'm still on the board. I founded it. I created the name 'Women Grow,' and I bought the website. Then I built up the team and we started a chapter system. And that company has women gather together on a monthly basis on a local level to try to change gender parity and technology. And I believe in my heart and soul that because we started Women Grow at the very, very inception of the cannabis industry, when we've never really had that opportunity to do this, to actually start from the beginning and try to change the disparity, [that it has made a difference].But the second generation of Women Grow changed some of the things that I'd built into the chapter system, and then they turned it into a market-leader program. I'm still involved but I've stepped away from the day-to-day.
Earlier this year you achieved a landmark with your Jane West lifestyle brand, in launching an equity crowdfunding campaign on Republic. How did that come to be?
So first and foremost, the reason for the crowdfunding campaign was to build a brand, which we did. We thought if we could raise at least $50K, all these doors were going to be opened in terms of media and all these people who would read about us and find us interesting. But it was really, really hard and it was way more effort and work that I had to take on my shoulders that I couldn't get anyone else to do. More than I ever expected. But by doing this campaign we were able to raise $180,000 and build brand awareness and take on 551 new investors from 17 countries. With that, we brought our two favorite CBD products to market.
Your accessories have been lauded nationwide as revolutionary. What do you envision with your CBD products?
I could see the CBD future coming to this market about 18 months ago, and I myself trying new products as the guinea pig, it was important to me that we found products where people could easily replace their existing habits with a better [solution]. We're so used to having our coffee and taking our pills. So I knew I wanted two things: I knew I wanted something that was like a pill, and I knew I wanted something that was a mainstream product. I looked at butter, sugar, those type of things, but I knew coffee was better.
You are releasing a coffee and capsule line….. What other products/collections are you excited about?Now we have this complete catalogue. It's the glassware and the dugouts… so I have a total line of glassware which I use for special occasions and around the home, and then I have a line of dugouts, which are amazing. I use dugouts all the time for travel and on the go. And then we have the night and day capsules because I really do believe in the power of CBD and I wanted to make a THC-free option. I live in Denver, the heart of cannabis country, and there is no reason that anyone should be nervous about buying these products. But still, the majority of moms and adults at my kids' school probably would be really skeptical about a product that has THC in it. Even if it was just 2 or 3%, they would be convinced on some level that they were going to get psychoactive effects from it. And I don't want people believing that. I wanted to find a way that my network could incorporate CBD into their lives.And now people say, "Are you bringing a gummy to market?" Maybe I will, maybe I won't, but if you just start down that path, you'll figure it out.What is the most rewarding for you in creating new avenues for women to experience cannabis and integrate it into all aspects of their lives?It's definitely the inspiration that everyone else gives me constantly. We all, as women, want to feed each other's creativity and I want to see life and weed through their lens and how they consume. I want to see content and cannabis and cannabis-related lifestyle things that women create and design. That's how the whole thing started, right? I was at a party and I wanted to go smoke a joint instead of having another glass of wine. There wasn't that avenue to see how all these different feminine viewpoints would affect how we see cannabis, and now we get to see that. Now those things exist.–Looking for tips on how to launch and crowdfund your own business? You'll find great resources in this article from CarefulCents.com. Read on to learn how the most successful entrepreneurs create opportunity, even with zero funding at the start.—To learn more about Jane West, visit janewest.com or follow on Facebook, Twitter, and Instagram. Use the hashtag #betterwithjane to share your experience with her brand's latest collections.For more about Women Grow, visit womengrow.com or follow on Facebook, Twitter, and Instagram.—
TribeTokes.
RELATED POSTS